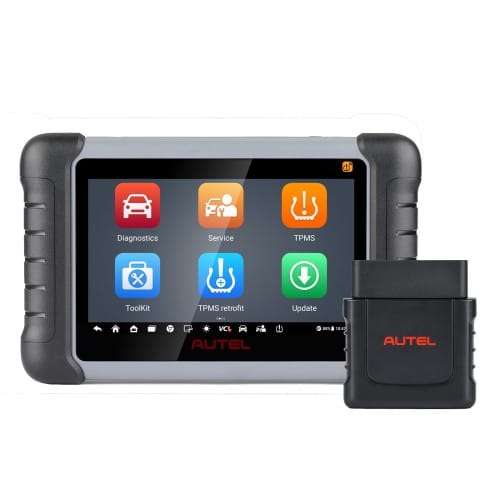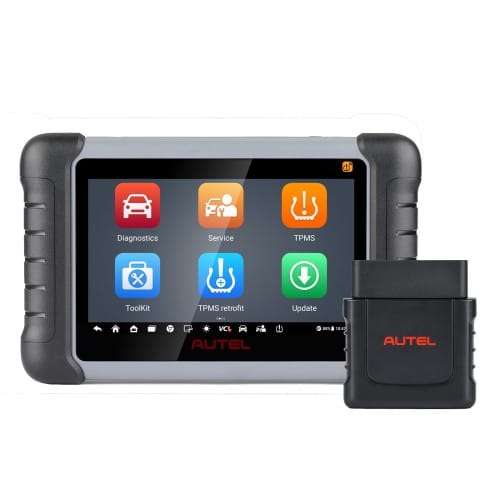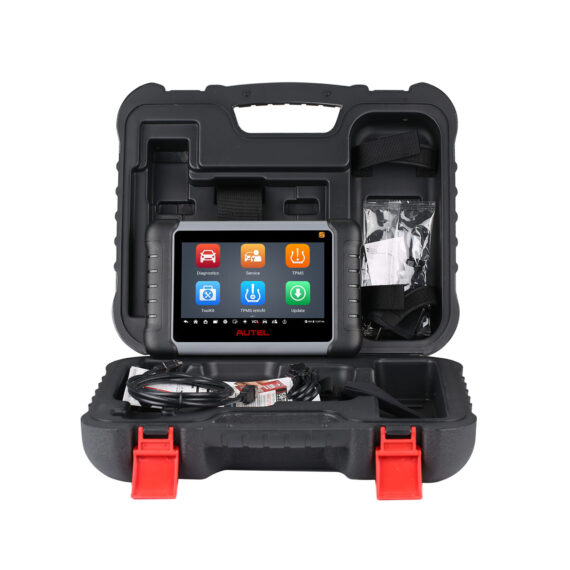 2023 Autel MaxiPro MP808S-TS Bidirectional Diagnostic Scanner, ECU Coding, Full TPMS Function with 31 Special Functions
22
people are viewing this right now

Safe shopping & 30-day return guarantee

2023 Autel MaxiPro MP808S-TS Bidirectional Diagnostic Scanner, ECU Coding, Full TPMS Function with 31 Special Functions
Description
Shipping from our US and UK warehouse. 
The 2023 Autel newly-launched scanner MaxiPRO MP808S-TS works as a great combo of MP808BT PRO+MS906+TS608. It's not only an advanced car diagnostic tool for car repair shops but also an all-in-one TPMS reset tool for tire shops.
2023 Autel MaxiPro MP808S-TS Bidirectional Diagnostic Scanner
What is Autel MP808S-TS?
The 2023 newly-developed Autel MP808S-TS is easier to use and runs faster, thanks to the refined hardware settings such as better processor, memory, camera, connectivity, battery, etc. Inheriting the superior diagnostics of Autel MaxiSys, MaxiCOM and MaxiPro scanner family, it has more powerful features combined with full TPMS functions, and covers wider vehicle coverage than many others. But you DON'T have to pay more to enjoy those advantages!
Highlights:
Upgraded from Autel Scanner MK808TS/MP808BT PRO/MP808TS.
Dealership-level ECU Coding & VAG Guided Function
TPMS Full Functions, Powerful as MS906TS
AUTOAUTH for FCA SGW Access,
Renault Security Gateway Function
31+ Special service function
All System Scan & Active Test
No IP restrictions
Multi-language

Why Choose Autel MP808S-TS Scanner?
Overall by TPMS function: MP808S-TS > TS508 > TS408 = TS401
Overall by diagnostic function: MP808S-TS > MS906 > MP808BT PRO > MP808BT > MP808TS > MP808S > MP808 > MK808TS
Why Update MP808TS to MP808S-TS?
Faster processing speed with CPU: ROCKCHIP RK3566; OS: Android 11; RAM: 4G; Wi-Fi: 2.4 & 5GHz, etc.
More user-friendly features such as Print via Wi-Fi, NO IP Restrictions, etc.
More Powerful factory-level functions like Online Coding and Renault Security Gateway Function
Autel MP808S-TS Scanner Functions
Bi-directional Diagnostic Scanner for Effective Active Test
This bi-directional scan tool can send commands to, and receives information from vehicle control modules. This way, you can quickly locate faulty auto parts.
Can activate many vehicle-specific systems, subsystems, and components such as relays, injectors, coils, solenoids valves, and actuators.
Can significantly save diagnostic effort. For example: you've connected a fu-el pressure gauge and cranked the engine, but no pressure was measured. This bi-directional diagnostic scanner can command the fu-el pump on. If the pressure gauge shows proper value, you know they are functioning normally. Without bi-directional active test, you'll send 5X times as long to get result.
More applications: Turn on/off the radiator fan, lights, sound horn, fuel pump, etc. • modulate the throttle • open/close windows • operate mirrors • test the device acceleration, oil pressure control, vehicle level position, inlet & outlet valve, open brakes, wheel speed sensor supply, parking brake, and many others.
NOTICE: The service menu varies by make, model and year. It ONLY lists the available tests.
All-System Diagnostic Tool for Car System Troubleshooting
This diagnostic tool will open a comprehensive insight into all systems found in today's cars, including Engines, Auto Transmission, Airbags, Immobilizer, ABS, Cruise Control, Instruments, Self Leveling Suspension systems, Seats, Doors, Gateway, Steering Angle, Air Suspension, Body Systems, Electronic Power Steering & Motor Assisted, Power Steering, Tire Pressure, Rain Sensors, 4WD System … depending on vehicle's make, model and year. With it, you can:
Decode not only generic but also OE-specific codes;
Delete code quickly after pulling DTCs; reset kinds of dashboard error lights;
Display live data in graphics that can be merged; easily get notified of a problem as soon as it develops;
Obtain ECU information to find the matched replacement for proper repairs.
ECU Coding
They are the 2 ways to perform ECU Coding which are available in Autel MP808S-TS Scanner.
Online Coding: Autel online servers will send coding values in automatic for a quick and precise procedure. This was developed as a smart coding solution that can be used by any technician or shop, regardless of experience.
(Compatible with BM-W, Porsche, V-W, Nissan, Nissan-GTR, Infiniti, and Hyundai …)
Offline Coding: You can manually input coding values for more customized builds.
(Compatible with Fo*d, Mazda, Jaguar, Vauxhall, and Opel …)
Full TPMS Functions for 99% TPMS Repairs
The Autel MP808S-TS is a great combo of MP808 + TS608. If you want a car diagnostic scanner that can also be a professional TPMS tool, then this Autel scanner should be in your collection. With the following full TPMS functions, you can solve almost all TPMS problems easily:
Complete TPMS diagnostics to read/clear TPMS codes with on-screen DTC description, and retrieve TPMS live data stream.
Activate all kinds of OEM & universal (315MHz + 433MHz) sensors on the market.
Easy automatic, stationary or OBDII relearn with 3000+ built-in TPMS relearn guidance varying by vehicle make, model, and year.
4 sensor programming ways: Copy by Activation; Copy by OBD; Copy by Manual Input; Auto Create 1-16 in batch; retrieve, copy old sensor ID, and write data into MX-Sensors.
Get access to the TPMS module that was not originally equipped in a vehicle but the driver has added it by using a retrofit kit, and diagnose its health status.
At-a-glance TPMS status screen displays all sensors' pressure (Kpa), temperature (°C), battery life, and compare sensor/ECU data to quickly identify the TPMS error.
Check the ke-y fob signals and working status to make sure it is in good shape.
Improved 99% TPMS-equipped car coverage being well-suited to mechanics in auto repair shops working on a wide range of vehicles.
4 Sensor Programming Options
If the damaged sensors can still send signals, use Autel MP808S-TS to activate it and get its sensor ID. Then program the ID into the new Autel MX-sensor. The new sensor can be installed directly in the same old position. No need to relearn.
If the vehicle is OBD compliant, you can use this Autel scanner to pull the old sensor ID stored in ECU, and write it directly into your MX sensor. No need to relearn.
If the old sensor's ID can be recognized on the unit, you can manually write the sensor ID into a new MX sensor with Autel MP808S-TS. No need to relearn.
If the old sensor is so damaged that cannot get activated, you can use this scan tool to generate a new sensor ID matched with vehicle make/model/year, and then program this ID into your MX sensor. Maximum 16 Autel MX-sensors within 4 inches can be programmed at one time. Need the relearn procedure.

31+ Hottest Service Functions
Autel MP808S-TS diagnostic scanner comes with 31+ exceptional reset and relearn functions that will greatly reduce your cost of car repairs. Aside from the following most commonly-used services in the US market that you expect:
Oil Reset, EPB, TPMS Reset (indirect), IMMO Ke-ys (basic), BMS Reset, Brake Bleed, Injector Coding, SAS Calibration, Suspension, Throttle Adaptation, WIN DR ROOF, and A/F Reset.
You'll also find plenty of high-level functions that cannot be found on other scan tools. To name a few:
Seats, Lang Change, Headlamp, CHG Tire Size, TEC Learn, ABSSRS, Cylinder, VGT Learn, Speed & PTO, Clutch, Trans Adaptation, Airbag Reset, Automatic Start/Stop, Electronic Water, FRM Reset, Transport Mode, HV Battery, ACC, A/C, Rain/Light Sensor and many more.
Applications:
Oil Reset: whenever the Oi-l Service light shows on dash board, you can use this Autel scanner to reset calculation and turn off the oi-l light. No need to drive your car to auto service shops with expensive maintenance.
2) SAS Calibration: if you have undertaken wheel alignment or replaced the stability control components, you can use this function to quickly reenter the steering angle sensor without having to make complicated repairs.
FAQ: Can I use the immobilizer to add or disable ke-ys?
Answer: Yes. But only for the cars equipped with basic antitheft system like most Asian cars or < 3.5th gen. VAG group vehicles.
AutoAuth Service for 2018+ FCA SGW
Compatible Cars: most 2018-2022 FCA SGW cars including Chrysler 300, Pacifica; Dodge Challenger, Charger, Durango, Journey, Ram (1000, 1500(DS), 1500(DT), 2500, 3500 Cab Chassis, 3500 Cab Chassis 10K, 3500 Pickup, 4500, 5500, Mexico), ProMaster City; Jeep Cherokee, Compass (Brazil, China, India, Italy, Mexico), Gladiator, Grand Cherokee (W2, WK), Grand Commander, Renegade (B1, BQ-China, BU, BV), Wrangler (JL); Alfa Romeo Giulia, Giulietta/Stelvio; Fiat 500X, 500L, 500BEV, Toro, Doblo, Ducato, Novo Strada, Mobi.
FAQ:
Is it easy to use the AutoAuth service?
Answer: Yes. First, log in AutoAuth and make payment:
1) an annual 50 bucks fee allows up to 6 users;
2) a 2 bucks fee is incurred for each additional user, then register your shop & techs on AutoAuth and there you go.
NOTICE:
1) You must have a valid software subscription and the latest Chrysler Software installed in your Autel MP808S-TS.
2) The scan tool must be connected to the internet.
Who Is Autel MP808S-TS Scanner For?
Suited to Automotive professionals, home DIY'ers with multiple cars, auto enthusiasts, garages, workshops, fleet managers, professional mechanics, auto tuners, car specialists, car dealers and many others:
– Its extensive car coverage and range of features give almost every diagnostic option you'll need; – Easy to use and intuitive, fast and efficient in performance; this diagnostic tool can improve the efficiency of your workbench; – Stylish yet durable, a fancy addition to your scan tool collection.
If you have any pre-sale question or need help with your purchase, feel free to reach out to our team:
Email: [email protected]
Mobile (WhatsApp): +447441395648
We always love to hear from our customers.