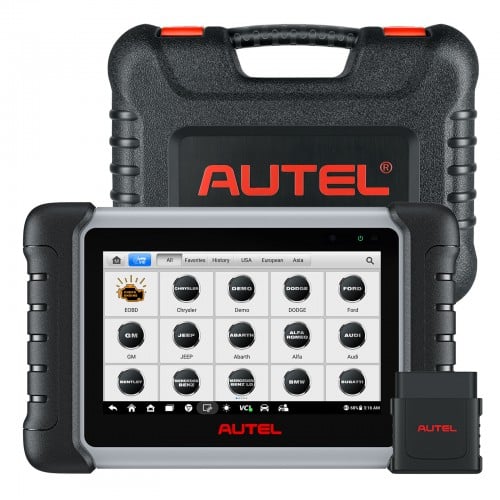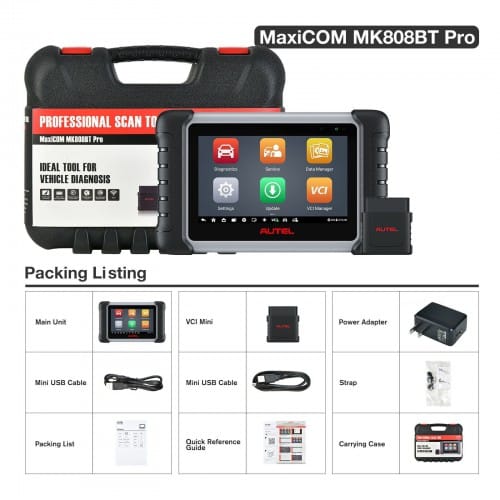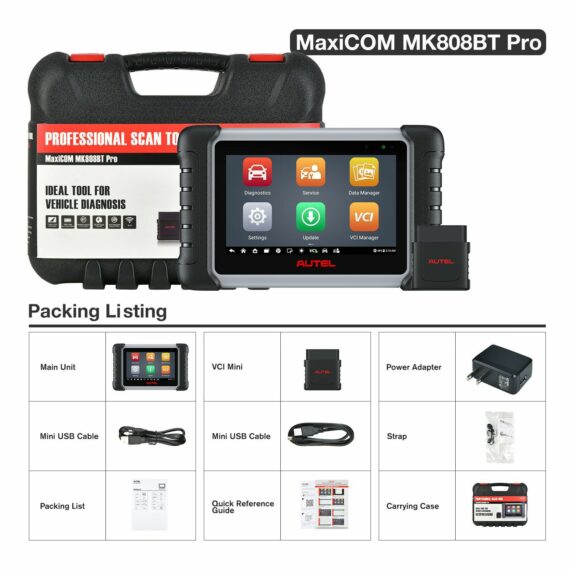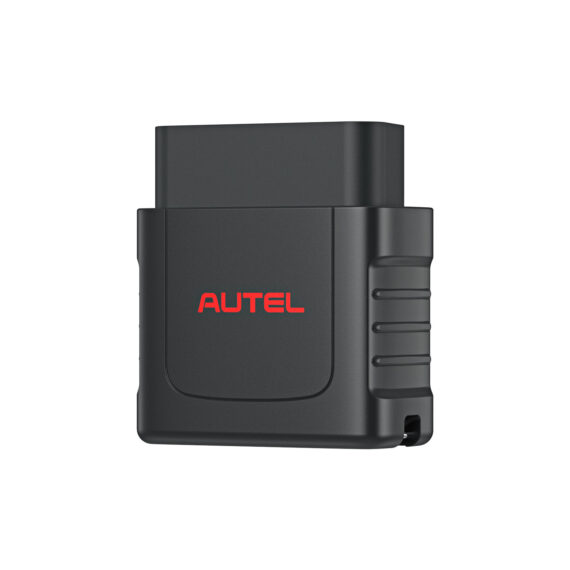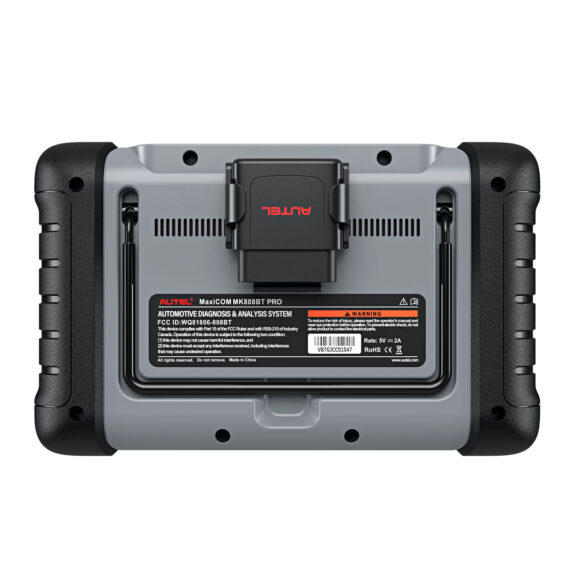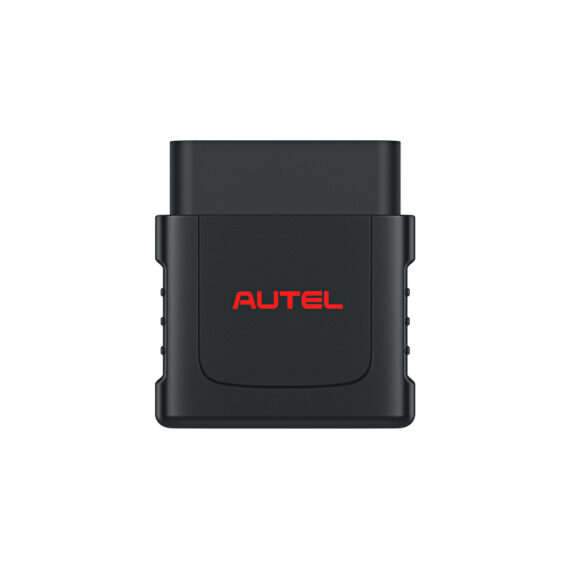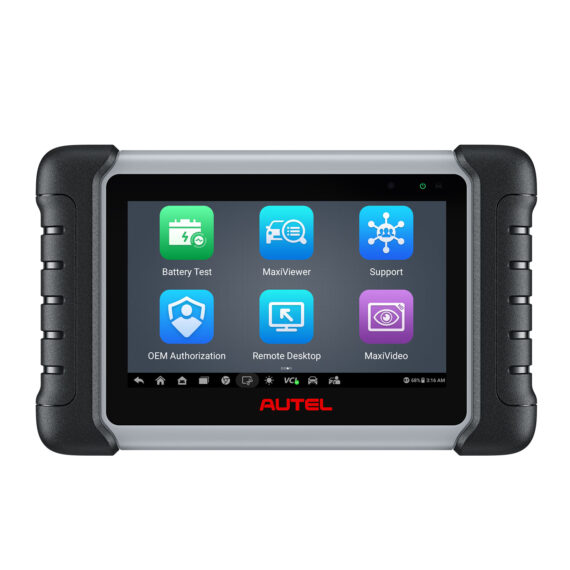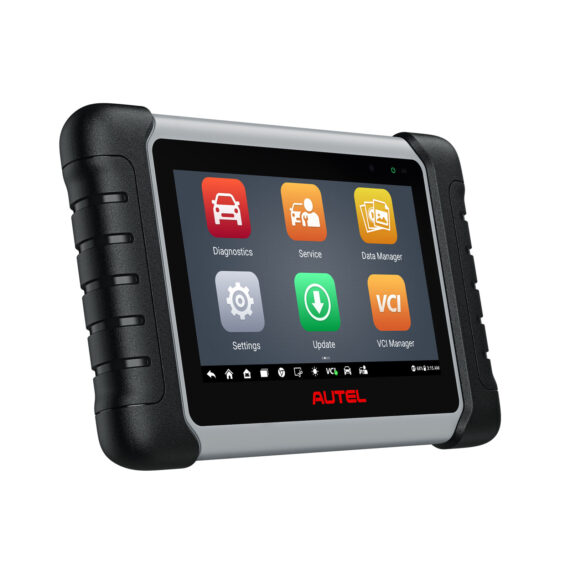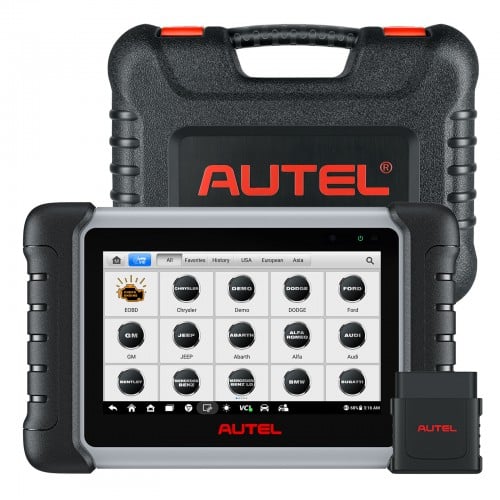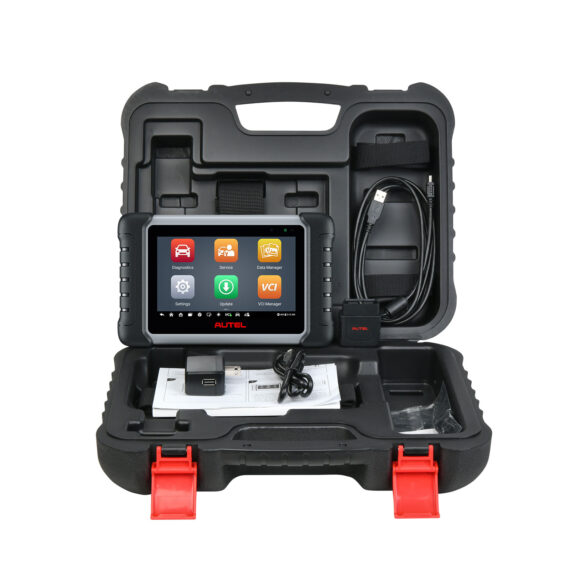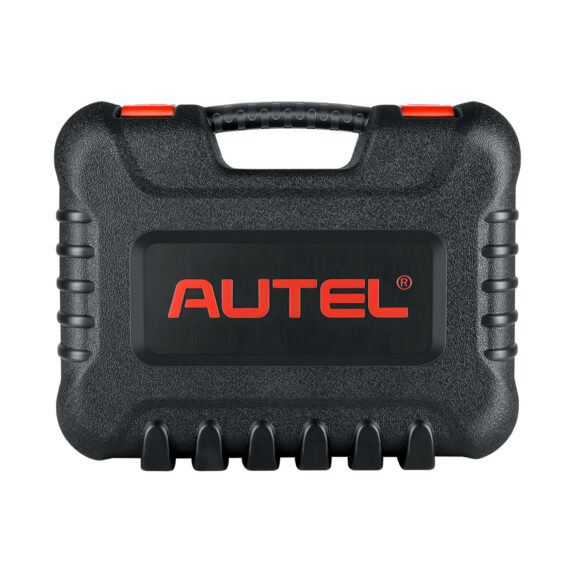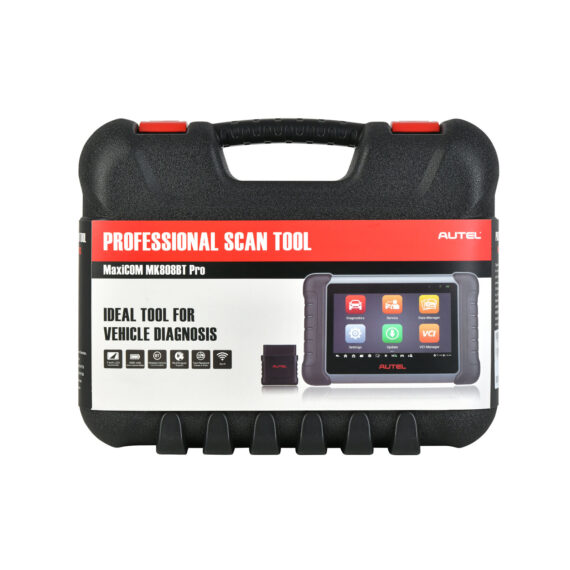 2023 Autel MaxiCOM MK808BT PRO Android 11 Full Bi-Directional Car Diagnostic Scan Tool Supports BT506, 28+ Services, FCA AutoAuth
22
people are viewing this right now

Safe shopping & 30-day return guarantee

2023 Autel MaxiCOM MK808BT PRO Android 11 Full Bi-Directional Car Diagnostic Scan Tool Supports BT506, 28+ Services, FCA AutoAuth
Description
Shipping from our US and UK warehouse. 
Autel MaxiCOM MK808BT PRO Scanner: 2023 Android 11 Bidirectional Diagnostic Scan Tool, Upgraded of MK808S MK808 MK808BT MK808Z MX808, All Systems, 28+ Service, ABS Bleed, Injector Coding, FCA AutoAuth
2023 Autel MaxiCOM MK808BT PRO Full Bi-Directional Diagnostic Scan Tool
What is Autel MaxiCOM MK808BT Pro?
Featuring the powerful Cortex-A9 processor, and a 7.0 inch LCD capacitive touchscreen, based on the Android multitasking operating system, and combined with the ability to quickly read and clear DTCs for all available modules of the majority of the makes and models on the market, the MaxiCOM MK808BT PRO is your ideal auto diagnostic and service tool. MK808BT PRO provides you with superior special functions, including Oil Reset, EPB(Electronic Parking Brake), SAS (Steering Angle Sensor), BMS (Battery Management System), and DPF (Diesel Particulate Filter).
MK808BT PRO Highlights:
NEW! Bi-Directional Control (Active Test) 
NEW! Supports Autel BT506 battery reset (MK808S decreased this)
NEW! Work with MV108 HD inspection camera 
AutoAuth for 2017 newer FCA cars(Chrysler Jeep Dodge Fiat etc.)
2023 Upgraded Wireless Ver. Of MK808S/ MK808Z/ MK808/ MX808S/ MX808
Stable BT Connection, range up to 33 feet (10m)
Supports 28+ Special Services
One Click Wi-Fi Update.
ABS Auto bleeding and Auto VIN Scan
Multi-Language Supported: English, Polish, Korea, German, Italian, Russian, Dutch, Portuguese, Spanish, Swedish, French
Other Features:
Extraordinarily powerful Cortex-A9 processor (1.6 GHz) processor,
7-inch LCD capacitive touchscreen with 1024 x 600 resolution display,
Internal reliable 64GB On-board Memory for better performance,
Unique ergonomic design with rubberized outer protection and a rugged internal housing,
Android 4.4.2 KitKat Operating System for fast boot-up and multitasking,
Extensive vehicle coverage for more than 80 US, Asian and European vehicle makes,
Complete capabilities for codes, live data, electronic control unit (ECU) information, and vehicle control systems, etc.
Data Manager saves customer and vehicle records, scanner data and technician notes for future review,
Read/clear codes functions,
Display live data in text, graph & analog for easy data review,
Auto VIN technology can automatically identify the vehicle's make, model, and year information,
Reset Steering Angle Sensor (SAS),
Support forced DPF regeneration.
2023 MK808BT PRO BMW V4.00 version newly added functions:
Models supported up to July 2021;
Adds 7 hot special functions: Transport Mode, HV Battery, ACC, A/C, Rain/Light Sensor, EGR, and FRM Reset.
New chassis: F44, F93, F95, F96, G22, G23, G80, G82;
2023 Newly Added Functions — Bidirectional Control/ Active Tests, FCA AutoAuth Access, Battery Test, etc.
Big surprise! With the same cost as before, Autel MaxiCOM MK808BT PRO has added NEW Functions (Valued 300+ USD). Click the "Update" to upgrade the system to V2.62 or above to get all new. Including:
Bi-directional Control / Active Test: Since 2023, Autel MK808BT PRO has been updated with the function of Bidirectional control/ Active Tests which is previouly only available in Autel MP808K, MS906 or higher level scan tool. But now MK808BT can also perform real active test that send commands to the vehicle's ECU to drive the a~ctuators to work, like ABS, window, door, solenoids, valves, wipers, headlamp, etc, helping you quickly find out bad parts and pinpoint faulty issues.
For example:
Fuel Injector Balance, Cylinder Power Balance, Fuel Trim Reset, Fuel Composition Reset, Fuel Pump Enable, Fuel Trim Enable
A/C Compressor Clutch Relay On/Off
Cycling ABS Pump Motor
EVAP Tests: EVAP Purge Solenoid Valve, EVAP Vent Solenoid Valve, EVAP Purge/Seal, EVAP Service Bay Test
Switch on/off car wipers
Rolling up/down car windows/ doors/ sunroof
Interior lighting test
Technological Breakthrough – FCA Auto Auth: Since 2023, Autel has released FCA Auto Auth Function for FREE on 2018 and newer FCA cars (Chrysler, Dodge, Jeep, Fiat) in the US, Canada and Mexico, which covers wider vehicles and helps technicians win more business.
There are 3 EASY STEP:
Authorized OEM Access Account Registration;
Confirm Compatible Diagnostic Platform;
Immediate Authorized Secure Gateway Access. Please remember to update FCA vehicle software to V9.50.
Battery Test & Electrical System Analysis ( Work with BT506 ): Autel automotive battery test tool BT506 can test all 6V and 12V 100-2000CCA batteries including the most regular Flooded, AGM, AGM Spiral, EFB and GEL batteries. It can perform in-vehicle & out-of-vehicle tests to determine the health status of the battery, the starter, and the generator respectively.
Work with Autel MV108 HD Inspection Camera: Turn your MaxiCOM MK808BT PRO into a video inspection scope, allowing you to examine difficult-to-reach areas normally hidden from sight. It is capable of recording digital still images and videos.
Autel Cloud Management : Device Management & Report Management, allow you to upload data or diagnostic reports to Autel Cloud without loss and share reports with customers through QR Code/ email/ text message easily.
Note:
BT506 and MV108 is NOT included in the package of Mk808BT PRO.
Functions NOT universal, please send VIN(17 digits),car makes, model, year to check compatibility before purchase.

OE-Level All Systems Diagnostics
Autel MK808BT PRO auto diagnostic scan tool can access (both wirelessly and wired) and scan all available electronic systems to perform full diagnostics,
including read and clear codes, view live data stream of multiple sensors in text or graph, retrieve ECU information, such as ECM, TCM, ABS, Airbag, BCM, Parking/ Steering/ Suspension/ Radio, Lighting/ HVAC systems, etc.
Read & Erase Codes: to locate problem and clear the fault codes;
Live Data: View Live Data of each parameter item;
Retrieve ECU information: Retrieves and displays the specific information for the tested control unit, including unit type, version numbers and other specifications;
Freeze Frame: Displays the freeze frame data of the DCTs.
28+ Reset & Maintenance Services – Meet All Your Needs!
OBD2 Scanner MK808BT PRO can perform 28+ maintenance services, including but not limited to Oil Reset, EPB Reset, SAS Reset, D~PF Regeneration, Battery Registration, Throttle Reset, ABS Bleeding, Injector Coding, IMMO key etc.
Oil Reset: Turn off the oil light, and reset the service mileage.
EPB Reset: Reset the brake pads after replacement.
SAS Reset: Reset the position of the steering for safe driving.
D~PF Regeneration: Clear the blockage in the D~PF filter, to meet emission standards.
Throttle Reset: Reset the throttle.
ABS Bleeding: Cycling the ABS system to bleed the air out of the ABS system before traditional bleeding.
Injector Coding: Coding the new injector after replacement.
And More…
NOTE: MK808BT PRO can add new keys on low anti-theft grade vehicles only. It can not add keys on high anti-theft grade vehicles like on BMW, Benz, Audi, VW and etc. If you want professional IMMO Key product, please consider Autel IM608 (ASIN: B08GFLPZG3)

ABS Auto Bleeding
MaxiCOM MK808BT PRO OBD2 Scanner comes with the hot function of ABS Brake Bleeding that enables technicians and home mechanics to bleed air out of the ABS module, saving you time and money!
Injector Coding
Autel MK808BT PRO Auto Scan Tool can perform Injector Coding to code the new fuel injectors to the engine ECU, to control the fueling and optimize the engine performance to prevent fuel consumption increase or black smoke and solve non-start issues.
Key Fob Programming
Clear information of lost keys and adding new keys to prevent your vehicles from being stolen.
Reset Key: Relearn the key
Add New Key: Add extra key to the vehicle
Note: The IMMO Keys function is designed for Asian vehicles that have low-grade anti-theft systems. If you need professional programming tool, you can consider Autel KM100/ IM508/ IM608 (Pro).
Autel VIN & Auto Scan
MK808BT PRO bidirectional diagnostics scan tool adopts the latest VIN-based Auto VIN Technology that enables auto technicians or home mechanics to identify vehicle information at a single touch, like Brand, Year, Make, Model, etc. With the Auto VIN and Auto Scan feature combined, Autel MaxiCOM MK808BTPro can perform comprehensive diagnostics accurately and efficiently.
Broad Vehicle Coverage:
99% of Vehicles Coverage: No matter whether the vehicle you are going to diagnose is come from the US, Europe, Asia, or Australia, the diagnostic tool Autel MK808 can fulfill your demands. If you worry that the car models update from one year to another but the diagnostic tool cannot scan the latest model, take it easy, the one-click update feature is here to make the scanner always compatible with the latest model. This list is still growing as the industry
progresses.
The Autel MaxiCOM MK808 PRO works well with: Acura, Audi, Benz, Bentley, BMW, Bugatti, Chevrolet, Chrysler, Corolla Gm, Holden, Ford, Honda, Hyundai, Infiniti, Kia, Land Rover, Isuzu, Jaguar, Lexus, Maybach, Mitsubishi, Nissan, Mazda, Mini, Opel, Porsche, Saab, Scion, Smart, Seat, Skoda, Sprinter, Subaru, Vauxhall, Volvo, Suzuki, Toyota, and Volkswagen vehicles, etc.
MK808BT Pro vs MX808 vs MP808BT vs MP808BT Pro vs MX808TS
| | Autel MK808BT PRO Wireless Scanner with Android 11.0 OS | Autel MX808 Diagnostics Scan Tool | Autel MP808BT Kit Scanner with 2-Year Free Updates | Autel Scanner MP808BT Pro With Android 11.0 OS | Autel MX808TS Wireless Diagnostic & TPMS Scan Tool |
| --- | --- | --- | --- | --- | --- |
| | | | | | |
| ABS bleeding/Key Fob Programming | ✓ | ✓ | ✓ | ✓ | ✓ |
| Bi-directional Control (Active Test) | ✓ | ✓ | ✓ | ✓ | ✓ |
| Relearn TPMS Sensors | × | × | × | × | ✓ |
| Program Autel MX-Sensors | × | × | × | × | ✓ |
| Activate TPMS Sensors | × | × | × | × | ✓ |
| TPMS Retrofitting | x | × | × | × | ✓ |
| Reset Services | 28+ | 28+ | 30+ | 30+ | 30+ |
| ECU Coding | × | × | ✓ | ✓ | × |
Autel MK808BT Pro Specifications:
Operating   System
Android 11
Processor
Cortex-A55 quad-core processor (1.8GHz)
Memory
4GB RAM & 64GB On-board Memory
Display
7-inch LCD capacitive touchscreen with 1024×600 resolution
Connectivity
Wi-Fi(802.11a/b/g/n/ac)
USB 2.0,Mini USB 2.0
Wireless BT V2.1+EDR
HDMI Type A
SD Card (Support up to 64GB)
Sensors
Light sensor for brightness auto adjust
Audio Input/Output
Input: N/A
Output: Beep
Power and Battery
3.7V/5000mAh lithium-polymer battery
Charges via 5 VDC power supply
Input Voltage
5 V/1.5 A
Operating Temp
0 to 50°C (32 to 122°F)
Storage Temp
-20 to 60°C (-4 to 140°F)
Protocols
 ISO9141-2, ISO14230-2, ISO15765, K/L-Line, Flashing Code, SAE-J1850 VPW, SAE-J1850PWM, ISo11898(Highspeed,  Middlespeed, Lowspeed and Singlewire CAN, fault-tolerant CAN) SAE J2610, GM UART UART Echo Byte Protocol, Honda Diag-H Protocol,TP2.0,TP1.6
Package Includes:
1pc x MK808BT PRO Tablet
1pc x USB External Power Adapter
1pc x USB Cable(for testing)
1pc x USB Cable(for charging)
1pc x MaxiVCI Mini
1pc x Quick Reference Guide
1pc x User Manual
If you have any pre-sale question or need help with your purchase, feel free to reach out to our team:
Email: [email protected]
Mobile (WhatsApp): +447441395648
We always love to hear from our customers.