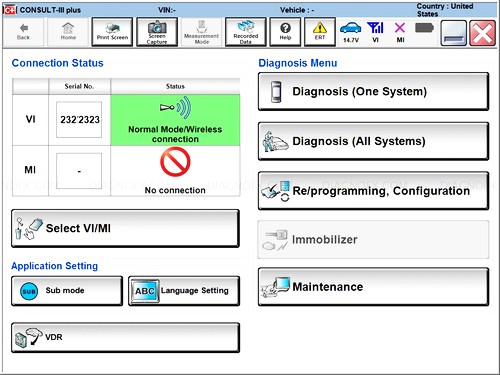 Nissan Consult III Diagnostic Software – Life time
15
people are viewing this right now
Frequently Bought Together

This item:

Nissan Consult III Diagnostic Software - Life time

Safe shopping & 30-day return guarantee

Nissan Consult III Diagnostic Software – Life time
Description
Nissan Consult 3 Plus is specialized software that makes the repair process simple. So how to login and use effectively? Check it out in this post!
Nissan Consult 3 Plus is diagnostic software exclusively for Nissan vehicles. For a machine as complex as a car, manually finding faults is very difficult. Therefore, technicians need tools to support diagnostic work. Since its launch, Nissan Consult 3 Plus has always been an effective assistant, helping technicians solve all problems more easily and quickly.
Nissan Consult 3 Plus Information
Name: Nissan Consult 3 Plus Diagnostic Software
Multi-language: English, Finnish, French, German, Greek, Italian, Japanese, Spanish, Chinese (Traditional), Chinese (Simplified), Russian.
Nissan Consult 3 Function
Nissan Consult 3 software has the following functions:
Error reading: For all models of Nissan, Infiniti, GTR,…
Remove error: For all models of Nissan, Infiniti, GTR,…
Reinstall ECM and TCM (Immo and Smartkey): Support programming for Nissan models from 1999 to present. Some car models support TCM programming.
Electromobile: For Nissan Electromobiles and Immo
Diagnostic efficiency and accurate repair
Enhanced diagnosis function to CAN network system
Downloading of reprogramming data
Enhancement of diagnosis capability for future systems
Integration of the VR (Vehicle data recorder) function into VI unit
Wireless communication
Display more information can be displayed on one screen
Which car models does Nissan Consult 3 Plus support?
This software can support all Nissan models from 1996 to present, including Nissan 2011 my leaf,quest, Murano Infiniti M, GTR,… Moreover, Nissan Consult 3 Plus is always updated and Improved to support models from 1996.
Nissan Consult 3 Plus Diagnostic Requirement
To install Nissan Consult 3 Plus software, your computer needs to be equipped with the following configuration:
Windows 7, or Window 10
Hard drive has 10Gb of free space
Language: Multi-language
If you have any pre-sale question or need help with your purchase, feel free to reach out to our team:
Email: [email protected]
Mobile (WhatsApp): +447441395648
We always love to hear from our customers.