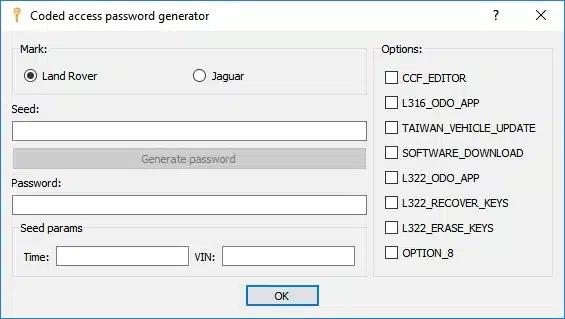 🔓 Seed Key Program for Jaguar and Land Rover 2022
13
people are viewing this right now

Safe shopping & 30-day return guarantee

🔓 Seed Key Program for Jaguar and Land Rover 2022
Description
🔓 SEED KEY ENGINEERING MODE WORKING ON SDD AND PATHFINDER 🔓
The application supports SOAP encrypted VBF files for both opening and saving.
Vehicles Supported:

L319, L320, L322, L358, L359, L361, L371, L392, L405, L460, L461, L462, L465, L494, L538, L550, L551, L552, L560, L561, L571, L575, L591, L663,L664,L860 Land Rover Vehicle Lines
X150, X151, X152, X161, X162, X250, X260,X262, X270, X351, X391 , X393, X540, X572, X574, X590, X760, X761, X762, X763, X770  Jaguar Vehicle Lines
Any vehicle not listed but covered by SDD or Pathfinder.
Supports all SDD supported VBF files.
SEED KEY CALCULATOR for Jaguar and Land Rover. 
Options available for engineering mode password calculator: Land Rover/Range Rover.
CCF Editor
Taiwan Vehicle Update
Software Download
L316/L322 Odometer
L322 Recover Keys
L322 Erase Keys
Option8
Jaguar
VIN Bypass
VID Block Eitor
CCF Editor
Software download
X150/X250/X351Odometer
X351 Recover Keys.
If you have any pre-sale question or need help with your purchase, feel free to reach out to our team:
Email: [email protected]
Mobile (WhatsApp): +447441395648
We always love to hear from our customers.