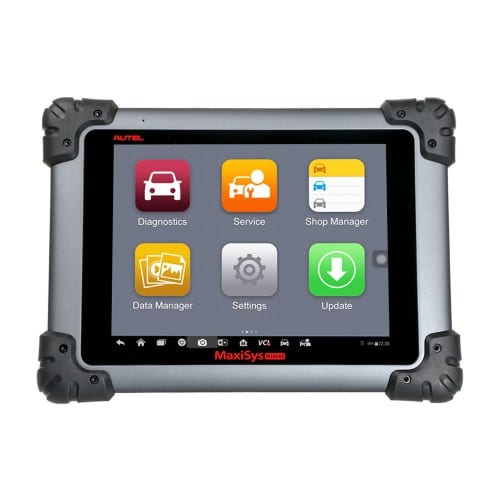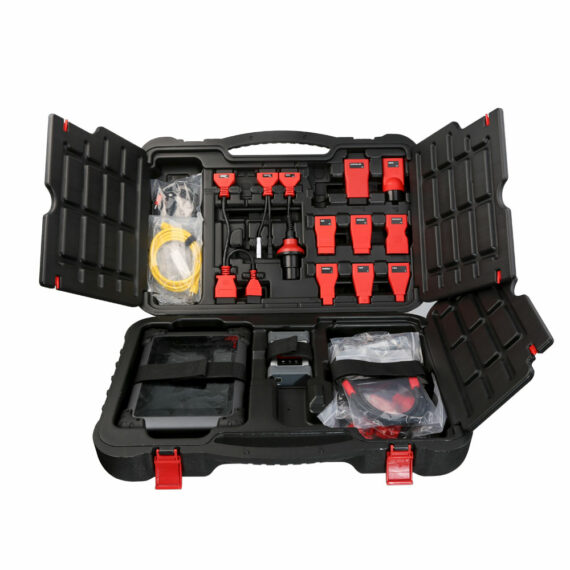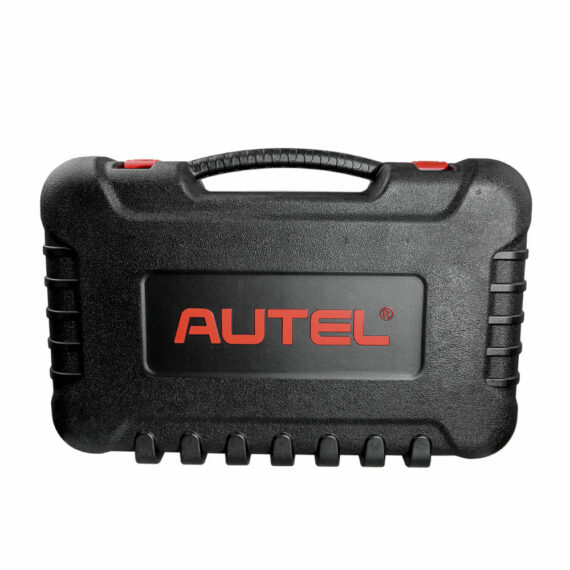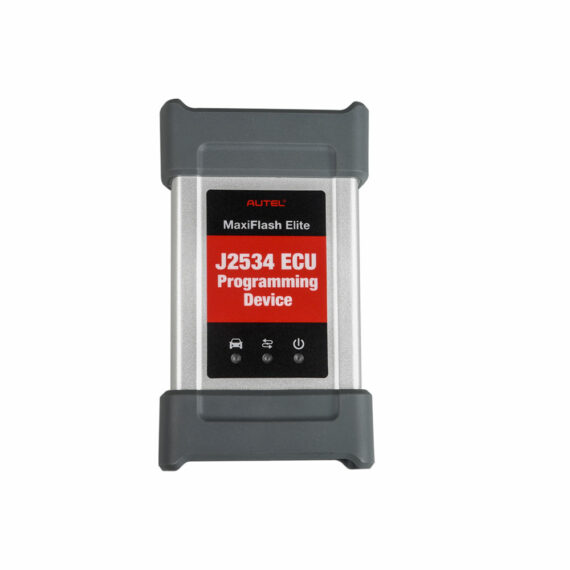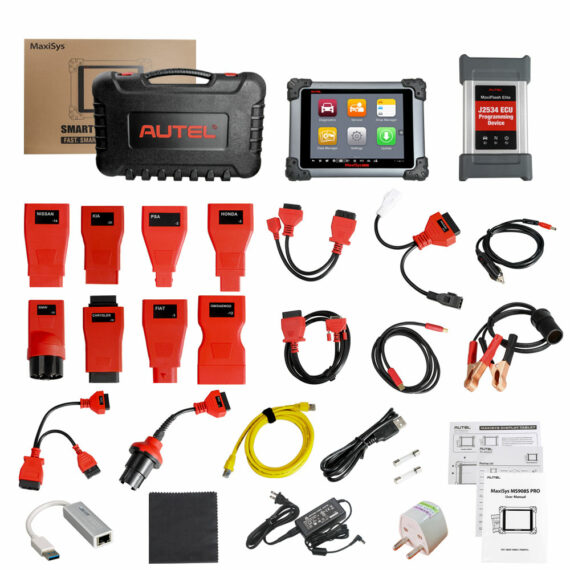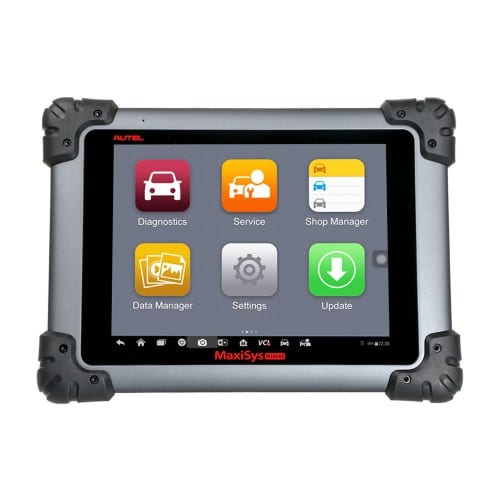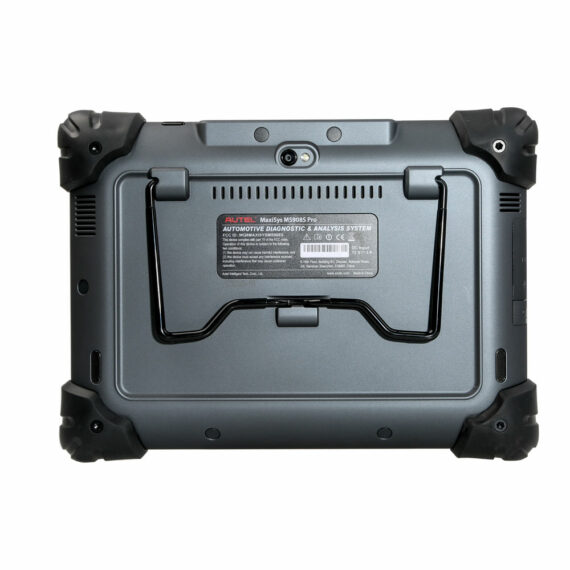 Autel MaxiSys MS908S Pro with J2534 Box Professional Diagnostic Tool 1 Year Free Update Online
20
people are viewing this right now

Safe shopping & 30-day return guarantee

Autel MaxiSys MS908S Pro with J2534 Box Professional Diagnostic Tool 1 Year Free Update Online
Description
Autel MS908S Pro is an ideal tool for a truly trouble-free diagnosis of a maintenance plant by quickly, efficiently and effectively diagnosing automotive faults, managing customer data, and standardizing business processes. Please contact us for better price.
1 Year Free Update Online on AUTEL official website.
100% Original Autel MaxiSys MS908S Pro Diagnostic Tool MaxiFlash J2534 Programmer 1 Year Free Update Online
MS908S PRO Description:
One of the MaxiSys series devices, the MS908SP Diagnostic Platform bases on the revolutionary Android multitasking operating system, utilizes the powerful Cortex A7+A15 six-core processor, and equips with 9.7-inch LED capacitive touch screen. Supporting J2534 ECU Programming Device is capable of replacing the existing software/firmware in the Electronic Control Units (ECU), programming new ECUs and fixing software-controlled drivability issues and emission issues. MS908S Pro is an ideal tool for a truly trouble-free diagnosis of a maintenance plant by quickly, efficiently and effectively diagnosing automotive faults, managing customer data, and standardizing business processes.
Top 5 Reasons to Get Autel MS908S Pro:
Active Tests, 30+ Special Functions, All Systems Diagnostics
Equivalent as MaxiSys Elite/MK908P, but Cost Much Less
Supports ECU Programming for Specific BMW & Benz
Advanced ECU Coding Function
Key Fob Programming Capability
1 Year Software Subscription: 795USD/ Year
Multi-Language Supported: English, German, Spanish, French, Italian
Active Tests/Bi-Directional Control
Autel MS908S Pro auto diagnotic tablet comes with bi-directional control capability for specific car systems which allows you to test various systems or parts by reading the engine ECU data, or by monitoring the operation of the actuators, such as solenoid tests, pump motor tests, relay, or switch, between two operating states.
ECU Programming for Specific BMW & Benz
Autel MS908S Pro comes with SAE J2534 Pass-Thru (J2534 Programmer) to replace the existing software & firmware and program new ECUs for BMW & Benz vehicles to fix software-controlled drivability issues and emission issues.
NOTE: Please send us VIN number of your BMW, Benz to check compatibility before purchase.
NOTE: Currently, NONE of Autel scan tools can program ECUs for vehicles other than BMW & Benz.
Advanced ECU Coding Function
ECU Coding function allows you to update the computer software on the vehicle to the latest version, recode adaptive data for certain components after making repairs or replacements to improve driving performance, fuel efficiency and reduce power loss. Available coding operations vary by the test vehicle, and only the available operations display in the menu.
NOTE: ECU Programming applies to BMW & Benz vehicles ONLY.
NOTE: ECU Coding is NOT universally compatible. Please check compatibility with us before purchase.
30+ Special Services & Full System Diagnostics
Various scheduled service and maintenance tasks includes: Brake Bleed, Oil Reset, EPB, BMS, DPF, Immo Keys, Injector, SAS, Suspension, Throttle, WIN DR ROOF, Seats, Odometer, Lang Change, CHG Tire Size, TEC Learn, ABS/SRS, Cylinder, Turbocharging, Limit, Clutch, Trans Adaption, Airbag Reset, Headlamp
Transmission Adaptation: Reset the adaptive shifting points in your automatic Transmission Control Unit.
Suspension Calibration: Calibrate the suspension height.
Crankshaft Variation Learn: Enables the computer to compensate for part manufacturing tolerances. To accurately detect an engine misfire throughout the engine RPM range.
SAS Calibration: Perform calibration of the steering angle sensor, which permanently stores the current steering wheel position as straight-ahead in the sensor EEPROM.
Key Programming: Add a new key fob for a family member.
Battery Registration: Register the new battery to the ECU after replacement.
Injector Coding: Coding injectors after replacement.
Key Fob Programming Capability
MS908S Pro key programming tool has the capability to add a new key/key fob to a low immo grade vehicles like Asian cars(Toyota, Honda, Nissan, Hyundai, Kia and etc), American cars like GM, Ford, Chrysler(some cars require a special adapter). NOTE: Key Programming function is NOT universally compatible. Please always send us VIN number to check compatibility before purchase.
However, for BMW, Benz, VW and other high immo grade vehicles, we recommend professional IMMO & Key Programming tools like Autel IM508, IM608.
Auto Scan & Auto VIN Feature
The MaxiSys Ms908s pro auto diagnostic tablet features the latest VIN-based Auto VIN Scan function to identify CAN vehicles in just one touch, which allows the technician to quickly detect vehicles, scan all the diagnosable ECUs on every vehicle and run diagnostics on the selected system.
Note: Auto VIN scan does NOT work on all vehicles. You can always navigate your vehicle through the menu manually to perform diagnostics and special functions.
Diagnostic Data Review, Analysis, and Remote Tech Support
Diagnostic Data Review, Analysis, and Remote Tech Support
Autel MaxiSys MS908S Pro professional scan tool comes with live data function which you can view live data stream and video recording function to record the screen for later review.
When issue occurs while performing diagnostics or special functions, MS908S Pro has Data Manager feature that allows you to upload data Log to Autel server for analysis via Data Manager- Data Logging.
Advanced Configurations + MV108 Add-On:
It supports Autel MaxiVideo MV108 digital inspection camera that connects to the MS908S Pro scanner to inspect hard-to-reach spot like engine system. MS908S Pro is also compatible with Oscilloscope and ADAS software which are not included.
NOTE: 
-MS908S Pro is a mature model that has been long used in US workshops and approved by mechanics and auto technicians.
-MS908S Pro can program ECUs on BMW & Benz only. It can NOT program ECUs on any other Brands.
MS908S Pro Features:
1. Extraordinarily powerful Cortex A7+A15 six-core processor
2. 9.7″ 1024×768 LED-backlit glossy Multi-Touch capacitive display with IPS technology
3. Internal reliable 64GB On-board Memory for better performance
4. Built-in 8-megapixel rear camera with autofocus and flashlight
5. The VCI connects to the main unit wirelessly with up to 70 meters working range
6. 802.11 a/b/g/n/ac Wi-Fi to access your favorite web resources
7. Unique ergonomic design with rubberized outer protection and a rugged internal housing
8. Open source Android Operating System for fast boot-up and multitasking
9. Extensive vehicle coverage for more than 80 US, Asian and European vehicle makes
10. Exceptional OE-Level system coverage for all electronic systems
11. Complete capabilities for codes, live data, active test, ECU information, adaptation, matching, etc
12. Cloud-based Data Manager saves customer and vehicle records, scanner data and technician notes
13. Built-in rechargeable lithium-polymer battery for up to 7.5 hours of continuous operation
14. Equip with J2534 ECU Programming Device for replacing the existing software/firmware in the Electronic Control Units (ECU), programming new ECUs and fixing software-controlled drivability issues and emission issues
What else Autel ms908s Pro can do for you?
– Complete OBD2 generic functions
– Loads of bi-directionals (hot functions) and system tests
– Provides OE-level functionality (varies from model to model) such as: Initialization, Calibrations, Immobilizer (not Toyota/Lexus)
– Sometimes the Autel is faster and easier to use than an OE tool
– PCM or WIN replacement functions on Chrysler
– Parameter reset on Ford and Mazda
– Graphical Ford misfire
– The 908s probably add keys unless OE requires a login to NASTF. If OE requires a pin code / security code, so will Autel. Autel does not pull pin codes
– Continues to work after the update subscription has expired
– No penalty for skipping updates
– Warranty extended with each update subscription renewal
Autel Maxisys MS908SP Vehicle List:
AUDI, BENZ, BMW, DACIA, EU FORD, Ford, LANDROVER, MINI, OPEL, PEUGEOT, RENAULT, SEAT, SKODA, VW, VOLVO, SMART, JAGUAR, BENZ SPRINTER, SAAB, FIAT, ABARTH, LACIA, ALFA ROMEO, VAUXHALL, MAYBACH, BENTLEY, BUGATTI, PORSCHE,GM, CHRYSLER, FORD,SUZUKI, KIA, DAWEOO, ISUZU, TOYOTA, SUBARU, SCION, NISSAN, MITSUBISHI, LEXUS, INFINITI, HYUNDAI, HONDA, ACCURA, MAZDA.
Autel MS908S Pro Specification:
Operating System
AndroidTM 4.4.2, KitKat
Processor
Samsung Exynos Six-core Processor (1.3GHz Quad-core ARM Cortex-A7 + 1.7GHz Dual-core ARM Cortex-A15)
Memory
2GB RAM & 64GB On-board Memory
Display
9.7 inch LED capacitive touch screen with 1024×768 resolution
Connectivity
Wi-Fi (802.11 a/b/g/n/ac)
USB: 2.0
BT v.2.1 + EDR
SD Card (Support up to 32GB)
HDMI
Camera (rear)
8.0 Megapixel, AF with Flashlight
Sensors
Gravity Accelerometer, Ambient Light Sensor (ALS)
Audio Input/Output
Microphone
Dual Speakers
3-Band 3.5 mm stereo/standard headset jack
Power and Battery
11000 mAh 3.7 V lithium-polymer battery
Charging via 12 V AC/DC power supply with the temperature between 0°C and 45°C
Input Voltage
12 V (9-24 V)
Power Consumption
6.5 W
Operating Temp.
0 to 50°C (32 to 122°F)
Storage Temp.
-20 to 60°C (-4 to 140°F)
Dimensions (WxHxD)
300 mm (11.81") x 220 mm (8.66") x 50 mm (1.97")
Weight
NW: 1.42 kg (3.13 lb.) GW: 8.052 kg (17.75 lb.)
Protocols
ISO 9142-2, ISO 14230-2, ISO 15765-4, K/L-Line, Flashing Code, SAE-J1850 VPW,
SAE-J1850 PWM, CAN ISO 11898, Highspeed, Middlespeed, Lowspeed and Singlewire CAN,
GM UART, UART Echo Byte Protocol, Honda Diag-H Protocol, TP 2.0, TP 1.6, SAE J1939,
SAE J1708, Fault-Tolerant CAN
The Autel universe of tools
The ms908s Pro is compatible with Autel add-ons (sold separately): ADAS, MaxiScope, MaxiVideo MV105/MV108
Autel MS908S Pro Accessaries:
USB Ethernet Adapter
Standard 2.0 USB Cable
BMW Ethernet Cable
Main Cable – 1.5 m in length
Adapter for Chrysler-16 (America Only)
Lighter Fuse
Adapter for GM/Daewoo-12
Adapter for PSA-2
Adapter for Fiat-3
Adapter for BMW-20
Adapter for Benz-38
Adapter for Kia-20
Adapter for Mitsubishi/Hyundai-12+16
Adapter for Nissan-14
Adapter for Honda-3
Cigarette Lighter
AC/DC External Power Adapter
Clipper Cable
Adapter for Benz-14 (for EU only)
Adapter for VW/AUDI-2+2
Mini USB Cable
Ethernet Serial Cable
If you have any pre-sale question or need help with your purchase, feel free to reach out to our team:
Email: [email protected]
Mobile (WhatsApp): +447441395648
We always love to hear from our customers.